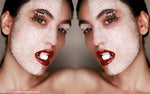 Sugar has a bad reputation when it comes to health and problems can occur when we consume too much added sugar. That is the sugar that food manufacturers add to products to increase flavors or extend shelf life.
Usually, the top sources of added sugar are soft drinks, fruit juices, flavored yogurts, cereals, cookies, cakes, candy, and most processed foods. But added sugar can also be present in items that you may not think of as sweetened, like soups, bread, cured meats, ketchup, etc.
Sugar does occur naturally in all foods that contain carbohydrates, such as fruits, vegetables, grains, and dairy. Consuming whole foods that contain natural sugar is actually good.
Plant foods also contain a high amount of fibers, essential minerals, antioxidants, and dairy foods contain proteins and calcium.
The human body digests these foods slowly and the sugar in them offers a steady supply of energy to the cells. A high intake of fruits, vegetables, and whole grains might be efficient to reduce the risk of chronic diseases, such as diabetes, heart diseases, and some cancers.
Check out our detailed article "Why Too Much Sugar Is Bad For You: Everything You Need To Know" for more information. 
---
Photo by Karley Saagi from Pexels
1 - REMOVE ANY SODA OR SUGAR-FILLED DRINKS FROM YOUR DIET.
Here are some better options:
We love to use reusable bottles to enjoy delicious and refreshing drinks around the house and away. We recommend bottles with protective sleeves, especially for outdoor use.
Here are 3 great options:
If you are a soda lover, we recommend the SodaStream Fizzi Sparkling Water Maker for fresh homemade soda at the push of a button.

Click on the images below to shop on Amazon:
2 - EAT FRESH, FROZEN, OR DRIED FRUITS.
Avoid fruit canned in syrup, especially heavy syrup.
Fruits are delicious and naturally sweet. They also contain a variety of vitamins and for some are excellent antioxidants. Favor seasonal fruits for even more flavors and nutrients.
Add fresh fruits or dried fruits to cereals or oatmeal instead of refined sugar.
Fruits like bananas, berries, cherries and dried fruits like dates, raisins, or cranberries go perfectly with cereals and are full of flavors and nutrients.
Here is a selection of original dried fruits you may enjoy:
Click on the images below to shop on Amazon:
3 - AVOID SUGAR-LOADED DESSERTS.
Most desserts do not provide a lot of nutritional value. If you really feel the need for something sweet, try these alternatives:
Here is a selection of prime options for guilt-free desserts:
Click on the images below to shop on Amazon:
4 - ENHANCE YOUR RECIPES WITH SPICES INSTEAD OF SUGAR.
Spices like ginger, allspice, cinnamon, nutmeg or clove enhance flavors more subtly than refined sugar and come with the added benefit of being a lot more nutritious.
Humans have consumed herbs and spices for the longest time, many of which were celebrated for their medicinal properties, long before culinary use.
Modern clinical research has confirmed that many of them do indeed offer remarkable health benefits.
Here is a selection of great spices collections:
Click on the images below to shop on Amazon:
5 - YOUR SLEEP PLAYS A MAJOR ROLE.
A lack of sleep causes people to favor high-calorie, sweet, salty and generally unhealthy foods.
In fact, the link between lack of sleep and obesity has been well researched.
Studies have shown that the part of the brain which controls decision making was impaired after a sleepless night, and the part which responds to rewards and controls desire was stimulated.

As a result, people favor high-calorie, sweet and salty foods.
So get a good night's sleep to help you curb your sugar consumption!

6 - REPLACE REFINED SUGAR WITH NATURAL SWEETENERS.
Replace refined sugar with quality natural sweeteners:
Here is a selection of great natural sweeteners: 
Click on the images below to shop on Amazon:
7 - AVOID SAUCES WITH ADDED SUGAR.
Sauces have a commonplace in most kitchens. However, most people are not aware of their shockingly high sugar content. Sauces such as ketchup, barbecue sauce and sweet chili sauce are most likely to contain added sugar. Make sure to always check the product labels while shopping.
Here are some other options to flavor your food:
Here is a selection of smart alternatives to sweet sauces:
Click on the images below to shop on Amazon:
8 - EAT WHOLE FOODS.
Whole single-ingredient foods that have not been processed or refined. They are also more likely to be richer in nutrients, free of chemical additives and other artificial substances, including sugar.
In essence, it's the food humans ate exclusively for thousands of years. The Western diet has shifted toward ready-to-eat meals since processed foods became popular in the 20th century.

While more convenient and readily available, processed foods also have a potential to harm your health. In fact, a real whole food based diet may be one of the most important things you can do to maintain good health.
9 - BE CAREFUL WITH THE "HEALTHY" MARKETING MESSAGES ON SOME PROCESSED FOODS.
Most people know that candy and cookies contain a lot of sugar, so they may look for "healthy" snack alternatives. Surprisingly, snacks like granola bars, protein bars or dried fruits can contain as much sugar than the unhealthy options, such as chocolate bars.
Also, some packaging will draw your attention in one place to better distract you from less desirable characteristics of the product. For instance, praising a "low sugar" content but failing to mention the presence of unhealthy fat.
Lastly, there is a lack of regulation around certain terms such as "natural", which can mislead you in making false assumptions about a product. Your best line of defense is to rely on regulated terms such as "organic" but also understand what they truly mean and are designed to regulate.
10 - AVOID HIGH SUGAR BREAKFAST FOODS.
Many breakfast cereals are surprisingly packed with sugar. One serving of cereals can contain up to 12 teaspoons (50 grams), which makes it about 88% sugar by weight.
Popular white flour based breakfast foods are also loaded with added sugar. Think pancakes, waffles, and muffins, but also jams and spreads.
Switch to these low-sugar breakfast options instead:
Choosing a low-sugar breakfast option with high protein and fiber will help you feel full for a longer period of time, most likely until lunchtime, and prevent unnecessary snacking.
Here is a selection of low-sugar breakfast options:
Click on the images below to shop on Amazon:
11 - EAT MORE PROTEIN AND FAT.
A high sugar intake can be linked to increased appetite, leading to weight gain. On the opposite, a diet low in added sugar but high in protein and fat can have the opposite effect.
Added sugar, particularly fructose, increases appetite by fooling your brain into thinking you are not full yet, leading to overeating.
On the other hand, protein reduces appetite and hunger, keeping cravings for the quick sweet fix at bay.
A high fat intake is also associated with reduced appetite. Fat is high in energy at 9 calories per gram, compared to 4 calories per gram in protein or carbs. This leads to a reduction in appetite and calorie intake.
Protein and fat-rich whole foods are prime choices. Look for meat, fish, eggs, full-fat dairy products, avocados and nuts.
12 - DON'T SHOP WHEN YOU ARE HUNGRY.
Not only can we have the tendency to buy more food, but we also tend to put less healthy options in our shopping cart.
Studies have shown that hungry shoppers purchase more high-calorie products, compared to those who ate before doing groceries.
13 - TOSS ANY REFINED SUGAR YOU HAVE IN YOUR PANTRY.
This includes white and brown sugar, syrup, molasses, etc. If you keep high-sugar foods in the house, you are more likely to eat them.
Instead, try to keep some healthy, low-sugar snacks in the house. Think fruits, nuts, greek yogurt or dark chocolate for instance.
THE BOTTOM LINE
Adverse side effects on human health have been well researched, and a lot of people living in Western countries suffer from various chronic illnesses directly or indirectly related to sugar overconsumption, such as cancer, type 2 diabetes, heart disease and obesity. In fact, the average American consumes more than twice the recommended maximum amount of added sugar per day.

It is of course advised to avoid obvious sources of sugar in your diet, but also to be cognizant of the hidden sugar in some processed foods, including famous brands or brands promoting themselves as "healthy".

Choose a diet based on whole foods and rely less on highly processed foods to be fully in control of your sugar intake.
The information provided in this article is not nutritional or medical advice. Please read our disclaimer.