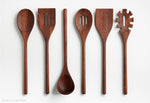 This post may contain affiliate links. Please read our disclosure policy.
When considering high-quality purchases for our kitchens we often forget to consider the quality of our more humble kitchen utensils. But, when you think about it, kitchen utensils are often the most used on a day-to-day basis plus come in direct contact with your food. Therefore, thinking about the durability and quality, as well as the materials used in kitchen utensils, should be important things to start considering for your health as well as for your purchasing habits.
A "kitchen utensil" is considered to be any kitchen tool or implement that is handheld and helpful for food preparation. The most obvious example is the classic wooden spoon. A tool considered to be essential in any kitchen. So surely you want such an essential item that comes in direct contact with your food to be safe and non-toxic.

Similar to our Non-Toxic Pots & Pans article, we want to help you demystify and simplify the process of buying high-quality, durable, and most important non-toxic kitchen utensils. Hopefully, after reading this article, you can be more confident in eliminating toxic chemicals from your kitchen and buying from the best options available.
You may be surprised to learn that there is a wide variety of materials to consider depending on what utensils you might be looking for. Each non-toxic material is ideal for certain utensils while are not suitable for others and so will have different uses within the kitchen. Remember, kitchen utensils often come directly in contact with your food and so making sure you are buying products that don't react with the food or leach chemicals is an important thing to consider.
In this article, we have broken down the variety of non-toxic utensils into their materials: wood & bamboo, stainless steel, silicone, glass and ceramic. This helps to explain the benefits that these non-toxic, sustainable materials have when made into kitchen utensils plus how best to treat and look after them to ensure they last. We have also provided selections of our favorite utensils in each category as suggestions if you are seeking some new non-toxic utensils.

---
Image by EverDreamCraft from Etsy
WOODEN & BAMBOO KITCHEN UTENSILS
Wooden utensils have had a place in the home kitchen long before plastic and harmful chemicals were created. This makes a perfect material to revert back to when looking for chemical-free, non-toxic solutions in your kitchen. Also if treated well, wooden tools can last a lifetime and even be handed down generations. Using your grandmother's old wooden spoon can add a whole level of love and appreciation to cooking.
Wooden utensils can be used alongside all types of pots and pans including cast-iron, ceramic, and even non-stick making them very versatile and useful. Having a variety of different shapes and sizes of wooden utensils can also be useful. The more you use them, you will find that certain shapes of wooden spoons are better for mixing cake batter while others are perfect for stirring risotto to ensure you can get into the edges of the pan.
Common woods used in good quality utensils tend to be beech, teak, and premium olive wood. Tools sculpted out of one piece of wood and hand-carved are more expensive but can be unique pieces. Cheap utensils are often made from pine or other cheap untreated woods that could possibly splinter, snap or stain over time.
Bamboo has become more and more popular in the kitchen. Often seen as more eco-friendly than traditional woods because bamboo grows quickly and can be replanted and regrown at a faster rate than cutting down large teak and beech trees. Bamboo is also a much stronger material making it less likely to break or splinter and, when looked after, it can last just as long if not longer than more traditional wooden tools.
Worth the price?
It is very easy to find cheap wooden utensils but often they won't be oil-treated and so may absorb colors and odors as well as degrade due to moisture over time. We always recommend buying quality to ensure durability rather than repeatedly buying low-quality. A hand-carved wooden spoon made from rare, unique wood can be a very special item to own, but not necessary to improve your cooking. If you are looking for utility, durability but also non-toxic wooden utensils then choosing ones made from bamboo or beech are definitely the best options.
Cleaning Tips
Most good quality wooden and bamboo utensils will have been treated with natural, non-toxic oil to protect the wood from absorbing stains and odors as well as keeping it resistant to moisture and from cracking or splintering. It is important to buy specific oil for wood and it is best to oil your utensils once every 6 months. For day-to-day cleaning, it is important to always wash the utensil by hand with hot soapy water and then allow it to fully dry, preferably standing up in a cutlery holder or hung on a hook. Cleaning wooden utensils in dishwashers or letting them sit in water for long periods of time will weaken the wood and potentially lead to rotting or damage.
Pros
Naturally

non-toxic

material

Works well with all types of cookware

More eco-friendly varieties available such as

bamboo

Craftsmanship and unique designs

Long-lasting & easy to care for
Cons
Risk of absorbing moisture, stains & odors.

Risk of splinters and snapping

Maintenance required

Not dishwasher suitable
Our Recommendations For Wooden & Bamboo Kitchen Utensils
A set of solid, hand-carved utensils with a sleek design and smooth finish. Consider this set a good investment for the kitchen as these utensils should last a lifetime.

If you are looking to experiment and introduce bamboo utensils into your kitchen, this set offers a good selection of shapes and uses.

Handcrafted Long-Handled Italian Olive Wood Spoon

For something a bit more unique and special, why not look into buying something like this hand-made Italian wooden spoon.

A great utensil for brushing butter or egg washes over pastry or cakes. Made from beech wood and boar bristles means that it is naturally non-toxic but also resistant to absorbing any fat or oil.

A solid wooden rolling pin is perfect for holding flour on its surface meaning it won't stick to your pastry or dough.

If treated and looked after, a wooden chopping board will become your best friend in the kitchen. Why not try this large bamboo board as an eco-friendly alternative?
---
Image by Williams Sonoma
STAINLESS STEEL KITCHEN UTENSILS
When considering non-toxic metal utensils and food preparation tools, stainless steel is your best option. Resistant to rust and non-reactive makes stainless steel safe in high heat and hot water, a great material for kitchen utensils. Items like knives, ladles, sieves, and strainers all benefit from being made of strong stainless steel to allow you to chop, serve, transfer or remove ingredients easily. Similar to wooden utensils, if looked after, stainless steel utensils can last you a lifetime.
Though they work well with stainless steel cookware, it should be noted that stainless steel utensils may damage non-stick items or may even scratch enamel surfaces. Damaging the non-stick layer of cookware makes it less effective over time and also risks the leaching of chemicals from the coating, so do keep this in mind if you own a lot of non-stick pots and pans.
Worth the price?
It is quite easy to find reasonably priced high-quality stainless steel utensils. Brands such as All-Clad and Cuisinart have their own ranges of stainless utensils that will work well with their own cookware items. It is best to try and find pieces that are molded from one piece of metal and don't have flimsy plastic handles or joints that could warp or break over time.
Cleaning Tips
Avoid abrasive cleaners or sponges when cleaning stainless steel as they could scratch or damage the metal over time. The easiest way to clean them is through a dishwasher as this will ensure a level of sterilization as well as sufficient cleaning.

Pros
Most are dishwasher safe

Durable

Non-reactive & rust-resistant
Cons
Cannot be used on

non-stick

or enameled pots & pans

May lose shine or gain marks and scratches over time
Our Recommendations For Stainless Steel Kitchen Utensils
Solid pieces with a mirror finish make these utensils stylish yet durable and a good place to start when first trying out stainless steel.

A premium range of cooking and serving utensils that will cover most tasks in the kitchen. Includes a whisk and potato masher.

 

A useful kitchen item for high-temperature deep frying or skimming out ingredients from boiling stock. The coil design and long-handle on this skimmer ensure that it is strong and keeps your hands a safe distance away from hot oil or water.

Often one of the most used items in the kitchen so you want a set that will stand the test of time. Buying stainless steel cups will mean you can measure both dry and wet ingredients safely and can be easily cleaned without the risk of staining or warping.

Stainless steel whisks are ideal for whipping cream or batters as the metal cuts cleanly through the batter and creates good air circulation. These whisks are also designed with strong but light-weight handles for easy use.

If you are looking to invest in new kitchen knives, but have a tight budget, consider this Cuisinart stainless steel set. Ergonomically designed making them perfectly balanced while also being completely solid steel meaning no risk of the handles coming loose or rust spots forming.

Nakano Mito Knife Set (Olive Wood)

We discovered Nakano recently and have been loving their quality knives, design and value for money. 

Nakano is present in Japan, the U.S, and Switzerland. First founded in 1918 through a long history of Japanese Katana (sword) making, their blacksmith brings generations of sword-smith experience into blending and crafting extremely sharp and durable kitchen knives.

Some highlights about the Mito Series:

Handmade by craftsmen in Seki Japan, using ancient Japanese crafting techniques passed on for generations. 
Strong and durable stainless steel that will last for multiple generations if well taken care of. 
Extremely sharp blade with an impressive edge retention that will effortlessly sail through your food. 

We are proud to offer 10% off your order with the "HOWTOCUISINE" discount code!

Nakano also offers other beautiful knife series, including Aus, Micarta, and Damscus. Feel free to check those out and enjoy 10% off your order as well!

If you are a passionate chef or home cook and would love to own professional knives, we recommend these true Japanese knives from GLOBAL. Their stainless steel molded dimpled handle provides balance with a safe grip and come with a lifetime warranty.

Check out our guide about Japanese Knives to know what to look for before buying. 

Global G-1800L Two-Sided Sharpening Whetstone

This two-sided whetstone offers two degrees of coarseness for honing knife edges. The orange side is coarse (Grit 240) for honing dull edges. The gray side is medium (Grit 1000) and used in the second step of honing for bringing edges to a sharpness suitable for use. The whetstone requires submersion in water for 10 to 15 minutes before use. It fits into a removable rubber base that prevents slippage while it's being used. The whetstone measures 7-1/8 inches long, 2-3/8 inches wide, and 1-1/8 inches thick. 

 
---
Image by Consiglio's Kitchenware
SILICONE KITCHEN UTENSILS
A fairly recent revelation, silicone has become a useful addition to the home kitchen as it is resistant to high heat, durable and perfect for use on non-stick pots and pans. Silicone is derived from a certain blend of sand and oxygen, similar to glass, and so is completely food-safe, ocean-friendly, and harmless. Compare this to plastic which is petroleum-based and often contains many harmful chemicals to keep it stable, silicone is hands-down the better option. However it is important to note that not any silicone can be used in the kitchen, do check the silicone in your utensils are labeled as "food-grade".
Silicone is naturally non-stick meaning that silicone utensils are really useful for working with oils, sticky batters, or scraping out the remains in the corners of pans. As well as being completely water-resistant and non-absorbable, silicone is also flexible which is its main winning feature over rigid wooden and stainless steel making it a great alternative material for baking utensils. However, silicone is easy to damage with sharp blades or knives and may snap or crack over time. Again buying high-quality utensils will ensure longer-lasting durability.
For more information about silicone, check our article "What Is Food Grade Silicone And How To Use It: All You Need To Know".
Worth the price?
Within a similar range of pricing as conventional wooden and stainless steel utensils, silicone can work alongside as well as replace certain kitchen utensils. We recommend buying silicone spatulas if you are often baking or using a food processor as nothing will work as well to scrape down the sides of bowls or efficiently transfer batters to cake tins.
Cleaning Tips
Most silicone utensils are completely dishwasher safe and are extremely easy to clean and quick to dry due to them being water-resistant. Be careful not to use abrasive sponges as that may leave scratches. Stains may appear over time but boiling or sterilizing your utensils with baking soda can help to remove some staining.
Pros
Non-toxic

alternative to

plastic

utensils

Flexible and durable

Water-resistant

Dishwasher safe & easy to clean
Cons
May stain over time

Can be scratched or marked by sharp blades or abrasive surfaces
Our Recommendations For Silicone Kitchen Utensils
| | |
| --- | --- |
| | Silicone works well with baking as the batter or dough will not stick to the utensils, making them perfect tools for mixing and transferring ingredients. This set also comes with silicone tongs which are useful for safely grilling or frying. |
| | Having a selection of spatulas of different sizes and shapes hopefully means that you can use them on most of your cookware and appliances. Also good alternatives for wooden spoons or other stirring. |
| | A perfect yet essential tool to use alongside a cast iron skillet, especially when it comes to making pancakes. These silicone griddle spatulas will not scratch or damage the skillet coating while also withstanding the high temperature needed to fry pancakes. |
| | A silicone pastry brush is ideal for basting oil or butter because it doesn't absorb the fat making it easy to clean compared to more traditional pastry brushes. |
---
Photo by Ella Olsson from Unsplash
GLASS & CERAMIC KITCHEN UTENSILS
Glass and ceramic are considered perfect materials for high-quality, non-toxic pots, pans, and other cookware. Brands like Pyrex and Le Creuset utilize these materials well. Though not necessarily conventional materials for kitchen utensils, naturally non-toxic glass and ceramic can make more safe, useful, sturdy, and eco-friendly alternatives to plastic items such as measuring jugs or storage containers.
Worth the price?
Glass and ceramic products will be more expensive than plastic alternatives. But when looking at the durability and non-toxic nature of glass and ceramic, we think it is better to invest in these pricier alternatives. Like the other utensils we have recommended, these should be considered as investments that will only need replacing if accidentally dropped or damaged rather than due to daily wear and tear.
Cleaning Tips
Both glass and ceramic are easy to clean with hot soapy water or can be added to the dishwasher cycle. Keep an eye out for any marks or fracture lines as with most glass or ceramic items, there is a risk of them breaking if regularly knocked or dropped.
Pros
Non-reactive

Perfect for storing or transferring food

Compatible with

wooden

,

stainless steel

, and

silicone

utensils

Dishwasher safe
Cons
Risk of chipping or breaking

Often quite heavy and bulky
Our Recommendations For Glass & Ceramic Kitchen Utensils
Having glass jugs make it very easy to measure the exact quantity needed and these Pyrex jugs are made from non-porous tempered glass meaning they can be used in the microwave as well as be cleaned in the dishwasher.

Storing food and leftovers in glass containers ensures that your food will remain un-contaminated and stay fresher for longer.

Transferring oil into a glass dispenser will keep it fresher for longer and out of harmful plastic bottles.

Ceramic knives are actually less likely to oxidize the food you are cutting, meaning fruits and vegetables don't turn brown as quickly. Also known to stay sharper than stainless steel though slightly more fragile. This colorful Cuisinart set could be an excellent addition to your kitchen if you want to experiment with ceramic knives.

Having a spoon rest next to your stovetop can keep your kitchen clean and tidy as well as helping to keep your utensils from falling off countertops or out of sitting in pots getting hot and blistered. A spoon rest made of ceramic will be easy to clean and heat-resistant which is important if it is sitting next to the stove.

Le Creuset Ceramic Utensil Crock Pot

If you have invested in some high-quality kitchen utensils you will want to make sure you store them in a safe high-quality container in your kitchen. Having a ceramic pot, like this Le Creuset one, next to your stovetop full of your go-to utensils makes grabbing a spoon or spatula easier than ever and adds a bit of extra design and style to your kitchen.

For more information about Le Creuset, check out our detailed article "A Buyer's Guide To Le Creuset".

---
MATERIALS TO AVOID
When shopping for utensils or other kitchenware items, it is good to get into the habit of checking what they are made from. Here are some materials to keep a lookout for and actively avoid:
BPA Plastic
Commonly found in polycarbonate plastics such as cheap reusable plastic water bottles or food containers. Though it has been used for many decades now, it has recently been discovered that BPA can leak from the plastic over time and into liquids or food substances. This is dangerous as BPA has been linked to immunity, reproductive and nerve health issues. Nowadays, a lot of plastic-based items will specify that their products are BPA-free.
Polytetrafluoroethylene (PTFE)
A human-made compound that is often found in cheaper non-stick coatings on pots and pans. When looking at kitchen utensils, especially silicone or plastic ones, check if they have been coated in non-stick coatings containing PTFE; this includes many Teflon products. The main issue is that PTFE has shown to be unstable in high temperatures releasing toxic fumes into the air and food around it. This chemical reaction has led to people having flu-like symptoms after being exposed and in worse cases having liver and kidney damage.
Nickel
This metal is very often found in stainless steel and is normally considered harmless within the steel. However, cheap, old or badly made stainless steel can leak nickel into the food. Because it is a carcinogen, nickel can damage the lungs if regularly exposed to it. There is more and more awareness of this in the industry so now most new cookware is rigorously tested. However, if you have some old or second-hand steel utensils, you can check them by adding them to a bowl of boiled water and baking soda. After 10 minutes, taste the water and if it tastes metallic or like old coins then you know it is leaching nickel.
Phthalates
They are a group of man-made chemicals often called plasticizers and used to make plastics more flexible and durable. You can often find these chemicals in plastic clothing, toys, IV tubing, cleaners, lubricants, cosmetics, personal care products, but also in food packagings and containers. They can be released from a product to another by heat, agitation, and prolonged storage. Unfortunately, there is no easy way to tell if a product has added phthalates. Because as you may guess, labels rarely state "contains phthalates". They can be identified on labels by a three or four letter acronym that defines their chemical structures: BBP, DBP, DEHP, DEP, DiDP, DiNP, DnHP, DnOP. If you want to reduce the phthalate you are exposed to, we recommend you to take a close look to labels, purchase products contained in glass, and use reusable produce bags.
Nylon
Nylon is used for kitchen utensils like spatulas, whisks, tongs, slotted spoons and so much more. Unfortunately, this material that makes a utensil safe for nonstick pans also tends to have hidden dangers for your health. Nylon utensils are not always as heat-resistant as manufacturers promise, and can often start to melt or fray around the edges in a searing-hot pan. For example, you will often notice that eggs can sometimes stick to your nylon spatula like glue and will shred with use overtime. That damage from everyday use allows toxins to enter your food while cooking, which could cause health problems afterwards. Remember, these utensils are heat resistant to about 400°F (204°C), but are not heat proof. That is why they are melting with extended contact with a hot pan.
---
THE BOTTOM LINE
Avoiding toxins should be a priority for all of us, but if you especially take the time to buy organic produce and unprocessed food, you should also be making sure you have non-toxic cookware and utensils. Adding organic food to a cheap plastic container or a PTFE-coated pan will simply leach chemicals into your food anyway.
We have mentioned quality a lot in this article but hopefully, it is clear that we believe that focusing on quality when buying any kitchenware will help you to avoid introducing any cheap, harmful toxins into your kitchen. The dangerous materials we have mentioned above have all been created and often used to cut costs so that items can be sold cheaply with zero concern about the harm they may cause to humans and the planet. When buying quality utensils you will notice how durable, strong and robust they are compared to cheaper alternatives so you know they will last so much longer, saving you money in the long run.
The information provided in this article is not nutritional or medical advice. Please read our disclaimer.