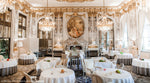 This post may contain affiliate links. Please read our disclosure policy.
Featuring in the Michelin Guide is one of the most renowned and recognized accolades within the hospitality industry. For many fine-dining chefs, earning Michelin stars is the ultimate goal in their profession. However, the process of awarding stars and receiving acknowledgement from the Michelin Guide is rather elusive and unspeakable. Now, with modern culture moving forward and away from traditional cuisines and fine dining experiences, it seems more controversy is cropping up around the value and credibility of the Michelin Guide.  
---
WHAT IS THE MICHELIN GUIDE & WHO IS BEHIND IT? 
The Michelin Guide started back in the 1900s when the Michelin tire company produced a travel guide to inform French motorists about places they could stay or eat when driving around France, thus encouraging more people to use cars and, in turn, buy reliable Michelin tires. It was in 1926 when the first stars were awarded to restaurants and hotels around France. Since then, the guide has transformed and remodeled into becoming the most well-known guide and review panel for fine dining restaurants and hotels worldwide. 
Every year, the Michelin Guide is re-released and updated with what they consider to be the best restaurants across the most traveled cities and countries around the world. They use a 3-star system, awarding stars to restaurants in accordance with what they believe is a high-quality and exceptional food and service experience. 
Anonymous Michelin inspectors visit restaurants all year round to review and evaluate new upcoming establishments while also returning to previously awarded restaurants to make sure the quality of service is being maintained. These inspectors have the power to award and remove stars while also keeping anonymity throughout the whole process.
The Michelin Guide says that the ultimate goal has always been to provide a tool to boost tourism and travel as well as to lead people towards "unforgettable experiences". 
---
La scène, Paris | Image by Stéphanie Le Quellec
WHAT IS A MICHELIN-STARRED RESTAURANT?
The Michelin Guide has never seemed to fully describe how they choose restaurants to rate and include in their guide, making the whole process quite ambiguous. Chefs and restaurants don't really have any specific guidelines to follow to work towards getting a star. However, the Michelin Guide does state that its inspectors assess the following criteria when visiting establishments:
Quality of the products
Mastery of flavor and cooking techniques
Personality of the chef in his/her cuisine
Value for money
Consistency between visits
Once the restaurant's food has been assessed, the inspector then decides on whether the establishment should be awarded stars to symbolize the level of quality and uniqueness of the experience. The Michelin Guide informs its readers by representing the stars with the following statements: 
1 star: "High-quality cooking, worth a stop!"
2 stars: "Excellent cooking, worth a detour!"
3 stars: "Exceptional cooking, worth a special journey!"
With this way of grading and assessing restaurants, the Michelin Guide does state that the quality of food is the main focus for their inspectors. However, many restaurants aiming for Michelin stars will also invest in polished unique decor and tableware to add to the customer's overall experience.
---
Anne Sophie Pic, 3 Michelin Star Chef | Image by Elite Traveler
DO STARS MATTER?
Over the past few decades, Michelin stars have become a cultural symbol of excellence across the modern Western world. Chefs branded with Michelin stars have gone on to become celebrities and are considered to be heroes of their craft. Michelin-starred restaurants are booked up for weeks with customers expecting to be calling a few months ahead to get a table at most Michelin-approved restaurants.  
For restaurant customers, the Michelin Guide is a credible source of information about what the new eating out experiences are. If people are seeking a high-quality unique food experience while visiting another country or exploring their home country, people do turn to the guide to see what restaurant they could try. For some fine dining enthusiasts, visiting and "ticking off" Michelin-starred restaurants around the world is very much a hobby. 
For chefs and their restaurants, pursuing and accepting stars is very much the status quo within the fine dining industry. Being featured in the highly-regarded guide is often the acknowledgment that chefs are seeking and once they receive their first star, their effort is increased to maintain it while also pushing themselves to gain a second and third star. And, as mentioned above, it is almost a guaranteed way of bringing publicity and customers to your restaurant. 
---
THE UNTOLD TRUTH ABOUT THE MICHELIN GUIDE
In recent decades, some previously unspoken truths about the Michelin Guide have surfaced. Despite Michelin stars being seen as badges of honor, there is some increasing controversy around the credibility and power the Michelin Guide has over the industry. Restaurants and chefs, the most notable being Marco Pierre White, have refused stars or asked to be taken out of the guide for various reasons. Claims have also been made about the guide's biases towards particular cuisines and experiences. 
More Hassle Than It's Worth
Trying to be more inclusive, in recent years the Michelin Guide has "relaxed" its rules and started to include more simple restaurants and establishments in their guide. In 2017, Jay Fei was added to the guide as the first awarded street food vendor with her local Thai food in Bangkok. However, doing this has given some more simple establishments unwanted attention that has had many more customers come to their doors than they can handle, and given the owners more pressure to meet high customer expectations or spend more money on their decor. Jay Fei has said that the increase in customers has been too much pressure for her and her staff to handle, and has made her quiet neighborhood a noisy unpleasant tourist hotspot. 
Back in 2012, Skye Gyngell, head chef at the Petersham Nurseries in London, quit after revealing that her Michelin star was a "curse" for her small simple informal cafe. She explained to the media that customers were coming into her restaurant expecting it to have the "normal" qualities of a Michelin-starred restaurant and then choosing to complain because their high expectations were not met. She was quoted saying: "If I ever get another restaurant, I pray we don't get a star".
Inspector Secrets 
Questions have been raised in the past about the value and status of the award as Michelin inspectors do not have to give detailed reports on why they choose to demote or award stars.  
In 2004, a former Michelin inspector, Pascal Remy, released previously unknown details and hidden secrets to the press about how the Michelin Guide operates. Remy claims that many Michelin restaurants aren't even re-visited after receiving stars to check that standards are being maintained, despite Michelin releasing a new guide every year. This information has led to the thought that inspectors have biases toward certain restaurants, wanting them to remain on the guide's list regardless of whether the restaurant maintains their standards. 
Bernard Loiseau, 3 Michelin Star Chef | Image by bernard-loiseau.com
Pressure On Chefs 
Because Michelin stars are so embedded in fine dining restaurant culture, many chefs and restaurant owners feel immense pressure to maintain their high-awarded status. The risk of losing Michelin stars, and then subsequently being dragged through the mud by the press, can happen at any moment throughout the year. Also, because the Michelin inspectors are anonymous, every dish that goes out of the kitchen has to be perfect. Being a fine-dining chef is already considered to be a stressful all-encompassing job. The addition of the never-ending daily grind of maintaining perfection that Michelin-starred chefs have to go through has been suggested as the reason why some previously award-winning chefs have turned to suicide as their only way out. 
Evidence around chef Bernard Loiseau's suicide has suggested that he was under pressure by a Michelin inspector because they had threatened to remove one of his Michelin stars due to the "lack of soul" in Bernard's restaurant.
In 2003, despite having become a member of the luxury hotels and restaurants association Relais & Châteaux and kept his 3 stars in the Michelin Guide, Bernard Loiseau was subject to a demotion from 19/20 to 17/20 by the gastronomic guide Gault et Millau and negative publicity from the food critic François Simon in the Figaro magazine.
It was in this context that he ended his life on February 24th, 2003 at the age of 52, with his hunting rifle.
Though Bernard did suffer from depression, his family believes that the financial pressure he was under was a factor in his death. According to estimations, had he lost one Michelin star, the restaurant would have lost 40% of its sales. 
In 2007, Pixar studio released the movie Ratatouille. In this cartoon, 2 characters were inspired by french chefs: 
Auguste Gusteau was inspired by Bernard Loiseau and Paul Bocuse, and named in homage to Auguste Escoffier.
Colette Tatou was inspired by Hélène Darroze. 
Lack Of Diversity
Arguments have been made that the Michelin Guide remains to ignore the gender inequality within the guide. For example, in 2016, out of the 77 Michelin-starred restaurants in New York, not one of them had a female head chef despite the fact there are many amazing female-run restaurants in the city. Also, there have been claims of the Michelin Guide being patronizing towards female-led kitchens in social media posts. With modern culture focusing more and more on equal rights and the gender pay gap, the Michelin Guide, we can only hope, will be forced to face their lack of diversity within their chosen establishments or risk losing their credibility. 
Biaised Selection
With the Michelin Guide having started in France, it is understandable that the guide still likes to focus on French cuisine. However, having now gone worldwide, it seems there is still a bias toward French-style cuisine, not just in France but also in cities such as London and New York. Also, it has been claimed in the past that the guide chooses to focus its awards on young upcoming chefs rather than older more experienced chefs. Regardless of what they choose to focus on, it seems clear that the Michelin Guide has full control over what they include in their guide and have little interest in trying to include a broad spectrum of restaurants and establishments. 

---
THE BOTTOM LINE
Because the Michelin Guide remains concealed in secrets, there will always be myths, rumors, and opinions of what the Michelin Guide really offers to the restaurant industry.  
It seems that the Michelin Guide chooses to award stars without the consideration of what the establishments want, and perhaps even what the customer wants.
If the Michelin Guide wants to remain influential in restaurant culture, it needs to acknowledge that the culture is changing and evolving away from stuffy traditional experiences. The best advice we can give to customers seeking out "unforgettable" food experiences is to make your own choices about what restaurants you think deserve merit and recommend them yourself. Remember, the Michelin Guide is exactly that, just a guide.