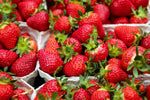 This post may contain affiliate links. Please read our disclosure policy.
Everyone loves good strawberries right? Did you know that the very first garden strawberry was grown in France during the late 18th century? Prior to this, wild strawberries were the common source of the fruit. 
Strawberries are produced commercially in many different ways. We can find them fresh, frozen, in puree, in juice and more. 
For most of the country, June is prime time for strawberries. You might also see them in the fall at some farmers' markets that can produce them until nearly the first frost.
Strawberries are such delicate fruits that in order to maintain top quality, they must be harvested by hand.
Everybody's favourite red summer fruit can offer more than just a great flavor and amazing dessert!
The heart-shaped silhouette of the strawberry is the first clue that this fruit is good for you. 
Nutrient-rich, they provide plenty of vitamin C, fiber, potassium, magnesium and packed with antioxidants, the benefits of strawberries for your health are big, and some will even surprise you!
Here are 4 facts about strawberries you want to know!
1 - Boost your immune system
Strawberries are a good source of fiber and an excellent source of vitamin C which is well-known to boost the immune system. Our body does not have the ability to produce vitamin C naturally, which is why it's so important to get your daily requirement. With only 3.5 oz (100g) you get about 58 mg of Vitamin C which is more than half of the daily value.
2 - Maintain a healthy vision 
Thanks to the high amount of antioxidants, strawberries are ideal to protect your eyes from age-related diseases (like cataracts) and keep the connective tissue and blood vessels around your eyes healthy. Our eyes require vitamin C to protect them from exposure to free-radicals from the sun's harsh UV rays, which can damage the protein in the lens. Vitamin C also plays an important role in strengthening the cornea and retina.
3 - Prevent cancer
Eating a balanced diet that includes foods rich in vitamins, minerals and antioxidants is important. Foods that are rich in antioxidants such as the Vitamin C help to prevent cancer, since a healthy immune system is the body's best defense.
4 - Regulate blood pressure
Changing your diet can significantly reduce high blood pressure. Certain foods such as strawberries can lower blood pressure. They contain antioxidant compounds called anthocyanins, a type of flavonoid. 
What are flavonoids? Flavonoids are rich in antioxidant activity and can help your body ward off everyday toxins, help your body stay healthy and decrease your risk of some chronic health conditions.
10 Delicious Healthy Ways To Enjoy Strawberries
1 - Skip the fruit-on-the-bottom yogurt and instead, opt for plain Greek yogurt with some fresh strawberries and oatmeal!
2 - In the rush to go to work or school? Forget about the breakfast bar, always over sweetened and combine fresh strawberries with some nuts such as shredded coconut and hazelnuts!
3 - Strawberries in salads are actually very tasty! Yes, get your salad done for lunch or dinner and cut some slices of fresh strawberries on top, believe us it will make a difference!
4 - Avocado toasts. With avocado you will say? Yes please! If you never tried it before, the natural sweetness from strawberries is so delicious on top of avocado toast that it is definitely something you want to try as soon as possible!
5 - Strawberry dressing. If you are bored of classic dressing with no specific flavor, find the sweetest strawberries you can get and blend them with olive oil, garlic, mustard, lemon juice and honey! This dressing will revolutionize your salads!
6 - Make your detox smoothie sexy by adding some tasty strawberry into it! Blend together some spinach, strawberries, mint, kiwi and water. You will obtain a delicious smoothie to be energized for the day.
7 - Water detox. Drinking water is so important to maintain good health, and adding some fruits to your water will make you crave for more! For example, in a jar of water, add some slices of strawberries (don't be afraid to be generous), fresh mint leaves, 3 or 4 cucumber slices (peeled), and half a squeezed lemon. You can drink it right away or let it set for a couple of hours in the fridge.
8 -  Who doesn't love chocolate? Cover your fresh strawberries with dark chocolate. Yes chocolate is also good for your body, well if you choose it carefully! Get a good quality dark chocolate, melt it in the microwave and dip your sweet strawberries in the melted chocolate. It will make the perfect after work snack!
9 - During a hot summer we all crave for a nice and cold ice cream. Instead of buying strawberry ice cream full of fake flavor and for most often with way too much sugar, put your fresh strawberries in the freezer and once they are totally frozen, blend them with a little bit of milk.
10 - Delicious strawberry jam does not have to be super sweet. If you get good quality strawberries, you will only need about 3 tablespoons for 1 quart of strawberries and about 1 teaspoon of agar agar (this will give you the jam texture).
The information provided in this article is not nutritional or medical advice. Please read our disclaimer.