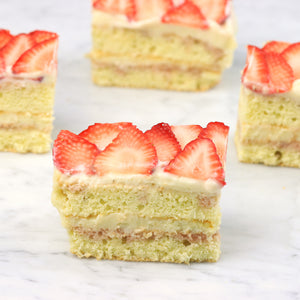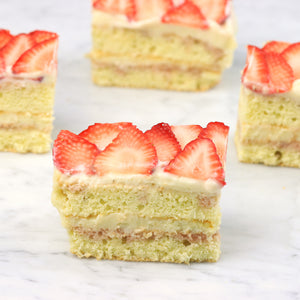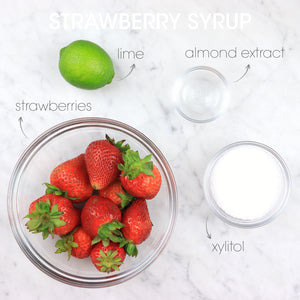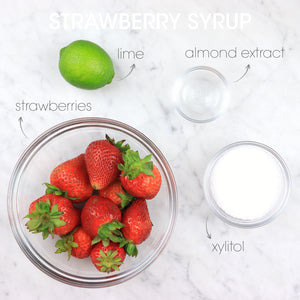 On Sale
Strawberry Tiramisu
This post may contain affiliate links. Please read our disclosure policy. 
If you are a strawberry lover, this recipe was made for you! In today's video, we are very excited to share this delicious homemade strawberry tiramisu! This delicious dessert is light and full of strawberry flavors, which makes it perfect for the summer season!

Tiramisu is a timeless Italian dessert that is traditionally combining espresso-dipped ladyfingers and a creamy mascarpone mousse. In this version, we wanted to make things a little fancy! Instead of the traditional mascarpone mousse, we made a delicious mascarpone whipped ganache. A real game-changer!

Store-bought ladyfingers are usually quite sweet and dry, which will likely make your tiramisu too sweet. But no worries, after viewing this recipe, everything you need to know about homemade ladyfingers won't be a secret for you anymore!

Check out our other tiramisu recipes:
- Italian Coffee Tiramisu With Homemade Ladyfingers
- Gluten-Free Matcha Tiramisu
Bon appétit!
Difficulty: 
Prep time: 25 mins / Cook time: 55 mins / Servings: 6 to 8 people

- - - - - - - - - - - - - - - - - - - - - - - - - - -

Mascarpone Whipped Ganache
1¼ tsp (18g) - Water
1 tsp (3g) - Gelatin powder
1 cup (240g) - Heavy cream
1½ tbsp (22g) - Honey
¾ cup (200g) - Mascarpone
4.75 oz (135g) - White chocolate
½ tsp (2g) - Almond extract
Strawberry Syrup
9.5 oz (270g) - Strawberries
¼ cup (60g) - Xylitol
½ tsp (2g) - Almond extract
½ - Lime
Ladyfinger
4 - Egg yolks
2.46 oz (70g) - Sugar
4 - Egg whites
2.65 oz (75g) - Sugar
1 cup (135g) - Flour
2 tbsp (20g) - Corn starch
3 tsp (10g) - Powdered sugar
Garnish
1 lb (454g) - Strawberries

- - - - - - - - - - - - - - - - - - - - - - - - - - - 
We advise that you prepare all the above ingredients before starting.
You will typically need: a scale, measuring cups, mixing bowls.
Mascarpone Whipped Ganache
1 - To a small bowl, combine the water and gelatin powder. Mix until well combined using a spoon and set aside.  
Tip: We store our ingredients in these mixing bowls and mini glass bowls from Duralex while cooking. We love Duralex for their quality products and low prices!
2 - Add the heavy cream, honey, and mascarpone to a saucepan (or like us a saucier pan). Place the saucepan over medium heat and bring to a boil. Make sure to stir occasionally using a silicone spatula to prevent the cream from sticking to the bottom of the pan. 
Tip: All-Clad is the gold standard for professional quality stainless steel cookware. If you want to learn more about All-Clad, check out our detailed article "The Ultimate Buyer's Guide To All-Clad".
For more recommended bakeware and cookware, check out our article: "The Best Non-Toxic Pots & Pans: Our Must-Have Cookware List". 
3 - Add the white chocolate to a large mixing bowl, pour half of the hot cream over it and whisk until the chocolate is completely melted.
4 - Add the remaining cream to the chocolate and whisk again until well combined.
5 - Next, whisk in the almond extract. Microwave the gelatin for about 10 seconds (or until fully melted) and whisk it in the ganache. Cover the bowl with food wrap and refrigerate it until needed. 
Tip: For a perfectly homogeneous ganache, we recommend you use a hand blender. Our must-have hand blender is the Braun Multiquick Technology.
Strawberry Syrup
1 - Add the strawberries, xylitol, and almond extract to a mixing bowl. Place over a double boiler and cover with aluminum foil (or food wrap) and let simmer for 40 minutes.
2 - Transfer the syrup to a food container through a sieve to remove the strawberries and squeeze half of the lime in the syrup. Put the lid on and set it aside. 
Ladyfinger
1 - Preheat your oven to 400°F (200°C).
2 - Separate the egg whites from the egg yolks.
3 - Add the egg yolks and the 2.46 oz (70g) of sugar to a stand mixer bowl. Then, whip the egg yolks on high speed for 5 minutes (or until light and fluffy) using the whisk attachment. Transfer the egg mixture into a clean bowl and set it aside.
Tip: The KitchenAid Artisan Design Series and the KitchenAid Professional 600 Series are superstars among stand mixers and will look amazing in your kitchen!
4 - Next, pour the egg whites into a clean stand mixer bowl and whip on medium speed for 3 minutes using the whisk attachment.

Tip: You may also use a hand mixer. We recommend this 7-speed hand mixer from KitchenAid for its quality and elegant design. For more information, check out our detailed article "The Best KitchenAid Mixers & Blenders".
5 - When the eggs turn white and foamy, slowly pour the 2.65 oz (75g) of sugar. Switch to high speed and whisk until stiff peaks. 
6 - Add half of the meringue to the egg yolk mixture and gently fold it using a silicone spatula until well combined.
7 - Add the rest of the meringue and gently mix to combine. Next, mix in the flour one half at a time until fully incorporated.
8 - Line a baking tray with parchment paper (or like us a silicone mat) and place the ladyfinger on it. Then, gently spread the ladyfinger evenly using an offset spatula.
9 - Sieve the powdered sugar on top and bake at 400°F (200°C) for about 12 minutes.
10 - Once baked, place a sheet of parchment paper on top and flip the ladyfinger upside down. Carefully remove the silicone mat and cut 2 sheets of ladyfinger to the size of the dish you will be using, using a sharp knife. 

Tip: We love these knives and recommend this quality kit from GrandTies for home and professional chefs. They are made from high-carbon stainless steel and are very versatile. Check out our detailed product review video for more information.
Assembling The Strawberry Tiramisu
1 - Transfer the ganache to a stand mixer bowl and whip on medium speed for about 2 minutes using the whisk attachment.

2 - Place one sheet of ladyfinger upside down into a dish and generously soak it with the strawberry syrup using a pastry brush (boar/silicone).
3 - Add half of the whipped ganache and spread it evenly using a silicone spatula.
4 - Repeat steps 2 and 3. Next, finely slice the strawberries lengthwise and garnish the tiramisu with them. 
Tip: We also love this reversible cutting board with integrated hand grips from John Boos.
5 - Put the lid on and refrigerate for about 1 hour.
6 - Enjoy!
Watch our video for more details!
- - - - - - - - - - - - - - - - - - - - - - - - - - - 
Disclaimer: baking/cooking times vary according to each appliance. Make sure to always control halfway through for success.

 - - - - - - - - - - - - - - - - - - - - - - - - - - - 
🎬 Everything we used for this recipe:
🍶 Kitchenware: Coming soon!
🍳 Ingredients: Coming soon!
- - - - - - - - - - - - - - - - - - - - - - - - - - - 
Enjoy our content? Support us! 💖
The information provided in this recipe is not nutritional or medical advice. Please read our disclaimer.