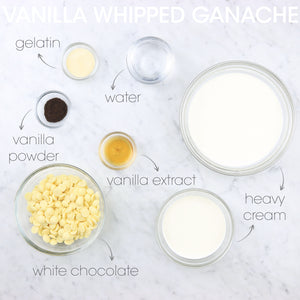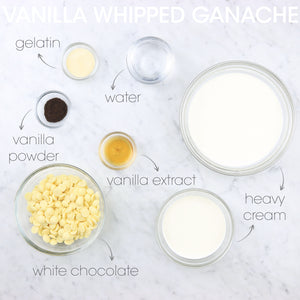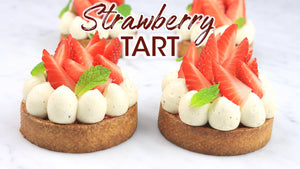 On Sale
Gourmet Strawberry Tart
This post may contain affiliate links. Please read our disclosure policy.
Strawberry season is finally here! To celebrate Mother's day, we are pleased to share with you this delicious strawberry tart with a little french touch.

Have you ever wondered how a French pastry is made? Today is your chance to learn how to make a gourmet strawberry tart!

This dessert is made of a delicious sweet crust, soft almond & mint cream, a creamy whipped vanilla ganache, homemade strawberry jam, and some fresh strawberries. This incredible blend of flavors will give you one of the best taste experiences. 

Did you know that the very first strawberry garden was grown in France during the late 18th century? Nutrient-rich, they provide plenty of vitamin C, fiber, potassium, magnesium, and are packed with antioxidants. The benefits of strawberries for your health are plenty, and some will even surprise you!
To learn more about this magical fruit, check out our article "The Power of Strawberries".
Bon appétit!
Difficulty: 
Prep time: 35 mins / Cook time: 40 mins / Servings: 6 servings

- - - - - - - - - - - - - - - - - - - - - - - - - - - 
Vanilla Whipped Ganache
6 oz (170g) - White chocolate
1.5 oz (42g) - Water
2 tsp (6g) - Gelatin powder
3.5 oz (100g) - Heavy cream (hot)
9.7 oz (275g) - Heavy cream (cold)
2 tsp (7g) - Vanilla extract
½ tsp (1.5g) - Vanilla powder
Strawberry Jam
½ tbsp (7.5g) - Monk fruit sweetener
¼ tsp (1g) - Pectin
5.3 oz (150g) - Strawberries
1 - Lime
Almond Mint Cream
1¾ oz (50g) - Butter (melted)
1¾ oz (50g) - Monk fruit sweetener
1¾ oz (50g) - Almond flour
1 - Egg 
5 leaves - Mint
Sablé Breton
3 - Egg yolks
3 oz (90g) - Butter
¼ cup (60g) - Xylitol
1 tsp (3g) - Sea salt flakes
¾ tsp (2.5g) - Baking powder
1⅓ cup (180g) - Flour
Egg Wash (for tarts)
1 - Egg Yolk
½ tbsp (7g) - Heavy cream (or milk)
- - - - - - - - - - - - - - - - - - - - - - - - - - - 

We advise that you prepare all the above ingredients before starting.
You will typically need: a scale, measuring cups, mixing bowls.
Vanilla Whipped Ganache
1 - Add the white chocolate to a large mixing bowl and set it aside.
Tip: We store our ingredients in these mixing bowls and mini glass bowls from Duralex while cooking. We love Duralex for their quality products and low prices!
2 - Add the water to a small bowl and mix in the gelatin powder. Then, set it aside to bloom. 
3 - Add the 3.5 oz (100g) of heavy cream to a saucepan (or like us a saucier pan) and bring it to a boil.
4 - Pour the boiling heavy cream over the white chocolate and emulsify with a silicone spatula until all the chocolate has melted and the cream is shiny and homogeneous. 
5 - Pour the cold heavy cream over the white chocolate mixture and mix until well combined using your spatula. 
6 - Next, add both the vanilla powder and vanilla extract. Mix until well incorporated.
7 - Finally, melt the gelatin in the microwave for about 10 seconds and mix it into your ganache. Cover with plastic wrap and refrigerate for at least 2 hours. 
Strawberry Jam
1 - Mix the monk fruit sweetener and the pectin into a small bowl and set it aside.
2 - Hull and dice the strawberries using a sharp knife.
Tip: We recommend you use a paring knife for this task. Sabatier knives are excellent french blades we recommend for professional and home cooks. We also love this reversible cutting board with integrated handgrips from John Boos.
3 - Next, transfer the strawberries and a splash of water to a saucepan (or like us a saucier pan) and cook on low-medium heat for 5 minutes. Ensure to continuously mix with a spatula to prevent the strawberries from sticking to the bottom of the pan. 
Tip: All-Clad is the gold standard for professional quality stainless steel cookware. For more information, check out our detailed article "The Ultimate Buyer's Guide To All-Clad".

4 - Add the pectin mix to the strawberries, stir to combine, and bring to a boil. 
5 - Transfer the jam to a food container and refrigerate it until needed. 
Almond Mint Cream
1 - To a high-speed blender, add the almond flour, monk fruit sweetener, and the 5 leaves of mint. Then, blend until finely ground. 
Tip: Vitamix blenders are by far the best we have ever owned: Vitamix Explorian, Vitamix Professional Series 750, and the new generation Vitamix A3500.
If you want to learn more about Vitamix, check out our detailed article "The Ultimate Buyer's Guide To Vitamix".
2 - Transfer to a mixing bowl and add the melted butter as well as the egg. Whisk until well combined and set aside. 
Sablé Breton

1 - Prepare your dry ingredients by combining the flour, baking powder, and salt in a mixing bowl. Mix them together with a whisk and set them aside. 
2 - Separate the egg yolks from the egg whites. Place the egg yolks in a bowl and keep the egg whites in the fridge for another recipe.
Tip: We advise you to store the egg whites in a small food container with a lid on to allow them to last longer. 
3 - Pour the butter and the xylitol into a stand mixer bowl. Then, mix them using the paddle attachment and on medium speed until the butter becomes nice and creamy. 
Tip: The KitchenAid Artisan Design Series and the KitchenAid Professional 600 Series are superstars among stand mixers and will look amazing in your kitchen!
4 - While mixing, add the egg yolks into the butter. Keep mixing until fully incorporated. 
5 - Stop the mixer and add all the flour mix to the butter. Then, turn the mixer back on and mix the flour on low speed.
Tip: Mix until just combined, the dough should be a little crumbly but hold together when pressing it. 
6 - Place the dough on a sheet of plastic wrap. Fold one side of it over the dough, then flatten it with your hands. Repeat on the opposite side. Finish folding the plastic wrap in a square shape like so.
7 - Roll out the dough with a rolling pin (marble/wood) in order to push it outward. Next, place it in the refrigerator for 10 minutes.
Tip: This process will allow it to set faster and will help you roll it out later.

8 - Place the dough between 2 sheets of parchment paper and roll it out with a rolling pin until ¼ inch (5 mm) thick. 
Tip: Adding flour to some types of dough results in a crumbly texture. Rolling between 2 sheets of parchment paper prevents this from happening.
9 - For the bottom of the tart, place a tart ring over the dough and press down to cut it. Then, remove the tart ring.
10 - Cut a few bands out of the dough for the sides of the tarts.

Tip: We recommend you use a chef's knife for this task.
11 - Cover the dough with parchment paper and place it back in the refrigerator for about 10 minutes.
Tip: This allows the dough to firm up. That way, it will be easier for you to mold your tarts.
12 - Remove the top parchment paper.
13 - Gently start to mold your tarts. First, place the base of the tarts inside the tart rings. Then, place the strips into the sides of the tart rings and press gently. 

14 - Cut the excess dough using a sharp knife, dig small holes in the bottom of the tarts with a fork and place them back in the fridge for at least 1 hour.
15 - Preheat your oven to 340°F (170°C) and bake the tarts for about 20 minutes. 
16 - For the egg wash, combine an egg yolk with the heavy cream in a small bowl and mix the two together using a small spoon.
17 - When the tarts are cooked, remove the tart rings and let them cool down enough for you to be able to touch them.
18 - Grate the irregularities with a zester to make the tarts as perfectly smooth as possible. Then, brush the inside and outside of the tarts with the egg wash using a pastry brush (boar/silicone) and put them back in the oven for about 8 minutes.
Assembling The Strawberry Tarts
1 - Transfer the almond cream to a piping bag and fill the tarts with it like so. 
2 - Then, bake the tarts in a 350°F (176°C) oven for about 10 minutes. 
3 - Zest the lime using a zester and mix it into the strawberry jam. Add about 1 tbsp of jam on each tart and spread it evenly with a spatula. 
4 - Transfer the vanilla whipped ganache to a large mixing bowl and whisk vigorously until smooth and fluffy. 

Tip: You may also use a hand mixer. We recommend this 7-speed hand mixer from KitchenAid for its quality and elegant design.
5 - Transfer the whipped ganache to a piping bag with a round pastry tip. Then, pipe long dots all around the edges of the tarts. Then, pipe a large dot in the center to cover all the remaining jam.
6 - Finally, decorate the tarts with fresh strawberry slices and fresh mint. 
Tip: Here, we are using tweezer tongs for the pro touch.
7 - Enjoy!
Watch our video for more details!
- - - - - - - - - - - - - - - - - - - - - - - - - - - 
Disclaimer: baking/cooking times vary according to each appliance. Make sure to always control halfway through for success.
- - - - - - - - - - - - - - - - - - - - - - - - - - - 
🎬 Everything we used for this recipe:
🍶 Kitchenware: Coming soon!
🍳 Ingredients: Coming soon!
- - - - - - - - - - - - - - - - - - - - - - - - - - - 
Enjoy our content? Support us! 💖
The information provided in this recipe is not nutritional or medical advice. Please read our disclaimer.