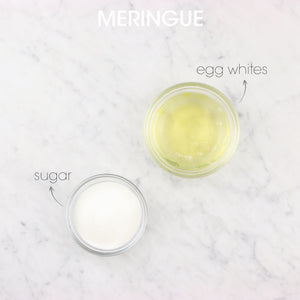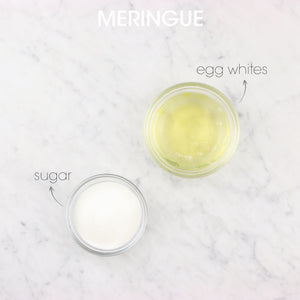 On Sale
Île Flottante
This post may contain affiliate links. Please read our disclosure policy. 
Floating Island, also called "Île Flottante", is one of those French desserts that reminds me of my childhood. Every time I went to a restaurant, I always ordered it. 
Of course, there are many ways to make this delicious French dessert. Here we chose to make it very easy for you! An easy caramel sauce, a delicious and creamy crème anglaise, and of course, the fluffy meringue cloud.  
This elegant dessert is very easy to make and is perfect if you want to impress your guests! Most people will choose to poach the meringues or to bake them in the oven, but these techniques require more time. This recipe shows you how to cook your meringue in the microwave! 
If you want to learn more about Silicone Molds, check out our detailed article: "What Is Food Grade Silicone And How To Use It: All You Need To Know".
Bon appétit!
Difficulty: 
Prep time: 20 mins / Cook time: 15 mins / Servings: 4 people

- - - - - - - - - - - - - - - - - - - - - - - - - - -

Caramel Sauce
2.8 oz (80g) - Sugar
2.8 oz (80g) - Heavy cream
1 pinch - Sea salt flakes 
Crème Anglaise
3 - Egg yolks
2.1 oz (60g) - Xylitol
17.6 oz (500g) - Milk
8.8 oz (250g) - Heavy cream
¼ tsp (0.5g) - Vanilla powder
1 tsp (5g) - Vanilla extract
Meringue
2 - Egg whites
¼ cup (60g) - Sugar
- - - - - - - - - - - - - - - - - - - - - - - - - - - 
We advise that you prepare all the above ingredients before starting.
You will typically need: a scale, measuring cups, mixing bowls.
Caramel Sauce
1 - Add half of the sugar to a saucepan (or like us a saucier pan) and place over medium heat. Slowly melt the sugar into a slightly brown caramel and add the second half of the sugar. While cooking, use a silicone spatula to make sure your caramel does not burn and cooks homogeneously.
Tip: All-Clad is the gold standard for professional quality stainless steel cookware. If you want to learn more about All-Clad, check out our detailed article "The Ultimate Buyer's Guide To All-Clad". For more recommended bakeware and cookware, check out our article: "The Best Non-Toxic Pots & Pans: Our Must-Have Cookware List". 
2 - Carefully pour ⅓ of the heavy cream over the caramel and stir vigorously to combine. Then, repeat with the remaining heavy cream ⅓ at a time.
Tip: When you add heavy cream to a cooking caramel, the caramel will rise quickly and make a lot of hot steam. The more cream you add the more the caramel will rise, that's why it's important to add it ⅓ at a time.
3 - Once you have added all the heavy cream and it is well combined, remove the caramel from the heat and transfer it to a glass food container. Let it cool for a couple of minutes and mix in the sea salt flakes. Finally, place the lid on and set it aside at room temperature. 
Crème Anglaise
1 - Separate the eggs, add the yolks to a medium-size mixing bowl, and refrigerate the whites for later. 
Tip: We store our ingredients in these mixing bowls and mini glass bowls from Duralex while cooking. We love Duralex for its quality products and low prices! 
2 - Add the xylitol to the egg yolks and whisk vigorously until light and fluffy before setting aside. 
3 - Add the milk, heavy cream, vanilla powder, and extract to a large saucepan (or like us a saucier pan) and bring to a boil. Then, pour ⅓ of the hot liquid over the egg yolks mixture and whisk until homogeneous.
4 - Pour everything back into the saucepan and place over medium-low heat. Cook the crème anglaise until the temperature reaches 167°F (75°C), while stirring continuously with a silicone spatula.
5 - When cooked, remove the crème anglaise from the heat immediately and transfer it to a food container. Place the lid on and refrigerate for at least 1 hour.
Tip: We recommend using a good kitchen thermometer for accuracy.
Meringue
1 - After 1 hour, start the meringue. Add the egg whites to a stand mixer bowl and whip them using the whisk attachment.
Tip: The KitchenAid Artisan Design Series and the KitchenAid Professional 600 Series are superstars among stand mixers and will look amazing in your kitchen! For more information, check out our detailed article "The Best KitchenAid Mixers & Blenders".
2 - When they turn white and foamy, gradually add the sugar while continuously whipping. Once you have added all the sugar, whip on high speed until soft peaks. 
3 - Transfer the meringue to a piping bag with a round pastry tip and set it aside. 
4 - Lightly grease a dome silicone mold with grapeseed oil using a pastry brush and pipe the meringue in 4 domes. Smooth the surface with an offset spatula and microwave the meringues for about 30 seconds. After 30 seconds, remove them from the microwave and let them cool for a minute or two.
5 - Meanwhile, add the crème anglaise to a plate and gently unmold the meringue with a silicone spatula. Place the spatula on one side of the flat surface and gently push the meringue. When your meringue is halfway out, flip the spatula to allow the meringue to sit on it. From here, gently transfer the meringue to the plate and push it onto the crème anglaise. 
6 - Drizzle the caramel over the meringue generously and add a few sliced almonds. 
7 - Enjoy!
Watch our video for more details!
- - - - - - - - - - - - - - - - - - - - - - - - - - - 
Disclaimer: baking/cooking times vary according to each appliance. Make sure to always control halfway through for success.

 - - - - - - - - - - - - - - - - - - - - - - - - - - - 
🎬 Everything we used for this recipe:
🍶 Kitchenware: Coming soon!
🍳 Ingredients: Coming soon!
- - - - - - - - - - - - - - - - - - - - - - - - - - - 
Enjoy our content? Support us! 💖
The information provided in this recipe is not nutritional or medical advice. Please read our disclaimer.