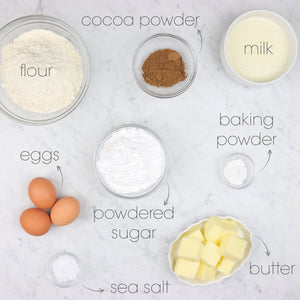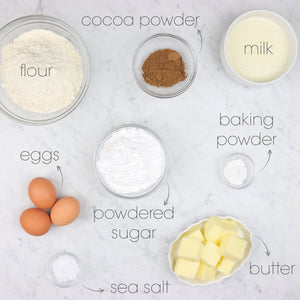 On Sale
Creamy Chocolate Raspberry Cupcakes
This post may contain affiliate links. Please read our disclosure policy.
Creamy and tasty, this is the only homemade chocolate raspberry cupcake recipe you will need. Without any food coloring or artificial flavors, this cupcake recipe is made only with natural products. This is not just another chocolate cupcake recipe. This one has the best light raspberry cream, typically called "crème diplomate" in french, made with fresh raspberries. This is one of the best! These light, fluffy and moist cupcakes also hide a delicious chocolate cream, called "crémeux chocolat" in french, which is making them even more delicious and tastier!
Are you ready to learn how to make these creamy chocolate raspberry cupcakes? Let's go!
Bon appétit!
Difficulty: 
Prep time: 40 mins / Cook time: 35 mins / Servings: 14 cupcakes

- - - - - - - - - - - - - - - - - - - - - - - - - - -
Raspberry Diplomat Cream
1 tsp (3g) - Gelatin powder
1½ tbsp (18g) - Water
7 oz (200g) - Raspberries
3 tbsp (40g) - Sugar
1 - Egg
2 tbsp (13g) - Corn starch
2 tbsp (28g) - Butter
½ cup (100ml) - Heavy cream
Chocolate Crémeux
2 - Egg Yolks
¼ cup (50g) - Sugar
3½ fl oz (100ml) - Milk
3½ fl oz (100ml) - Heavy cream
4⅛ oz (120g) - Dark chocolate
Chocolate Cupcakes

1½ cup (240g) - Flour
2 tbsp (12g) - Cocoa powder
1 tsp (5g) - Baking powder
1 cup (110g) - Powdered sugar
1 - Whole egg
2 - Egg whites
8 oz (226g) - Butter
6 fl oz (180ml) - Milk
- - - - - - - - - - - - - - - - - - - - - - - - - - - 

We advise that you prepare all the above ingredients before starting.
You will typically need: a scale, measuring cups, mixing bowls.
Raspberry Diplomat Cream
1 - Pour the water and the gelatin in a small bowl. Then, mix gently using a fork and set aside.
2 - Carefully wash the raspberries and turn them into a purée using a blender. Vitamix blenders are by far the best we have ever owned: Vitamix Explorian, Vitamix Pro Series 750.

3 - Strain the purée to remove the raspberry seeds from it. Rinse the seeds and save them in a small container for later.
4 - In a mixing bowl, crack the egg, add the sugar and the corn starch. Then, whisk vigorously until well combined.
5 - Pour the raspberry purée in a saucepan and bring it to a boil.
6 - Pour the hot purée over the egg mixture and give it a good mix before pouring everything back into your saucepan.
7 - Cook for about 5 minutes on medium low heat or until you obtain this texture. Then, whisk the cold butter into your cream. When the butter is fully incorporated, microwave the gelatin for 10 seconds to melt it, and whisk it in your cream.
Pro tip: gelatin is really sensitive to heat. If you let it for too long in the microwave, it will burn. If burned, the gelatin will lose its gelling power.
8 - Transfer the cream into a medium mixing bowl, cover it with a plastic wrap and chill it for about 1 hour.
Chocolate Crémeux
1 - Crack the eggs into a medium mixing bowl and whisk the sugar in until well combined.
2 - In a saucepan (or like us a saucier pan),pour the milk and the heavy cream. Then, bring it to a boil.

3 - Next, pour the hot milk over the eggs and whisk until everything is combined.
Pro tip: this step allows you to temper the eggs slowly and will help obtain a homogeneous cream. 
4 - Pour everything back in your saucepan and cook it like a crème anglaise over medium low heat until it reaches 167°F (75°C). Keep mixing using a spatula during the entire process to prevent the eggs from turning into scrambled eggs.
5 - Put the dark chocolate in a mixing bowl. Place a sieve over the bowl and pour the crème anglaise over it. The sieve will allow you to catch any lumps and thus will allow your chocolate cream to be really smooth.
6 - Start mixing with a spatula, then emulsify using a hand blender. Our must-have hand blender is the Braun Multiquick Technology.
Pro tip: emulsifying your chocolate cream or ganache is very important to obtain a shiny, smooth and homogeneous cream. It also prevents your cream from separating.
7 - Transfer the crémeux in a clean container, cover it with some plastic wrap and chill it for about 1 hour (or until set).
Chocolate Cupcakes

1 - Preheat your oven at 330°F (165°C).
2 - In a mixing bowl, crack the whole egg and add the egg whites. Save the egg yolks in the fridge for another recipe. Then, whisk the eggs like an omelet.

3 - Add the powdered sugar and whisk vigorously until light and fluffy.
4 - In a separate bowl, combine all the dry ingredients together: the flour, cocoa powder and baking powder.
5 - In a large mixing bowl, cream the soft butter using a whisk.
Pro tip: to cream a butter by hand, we recommend you use a stainless steel whisk rather than a silicone one. A silicone whisk does not have enough resistance compared to the stainless steel one.
6 - Add the eggs and whisk vigorously until the batter turns thick like so.
7 - Add one half of the dry ingredients (from step 4) and incorporate it gently using a spatula.
8 - Once the flour mix is well incorporated, pour the milk and whisk energetically. Finally, add the remaining dry ingredients and stir nicely with your spatula. 
9 - For the final touch, add a pinch of sea salt and stir briefly. It will bring out the chocolate flavor in your cupcakes.
10 - Line your cupcake pan with cupcake liners and fill them with the cupcake batter using a piping bag (we show you how here). Then, bake at 330°F (165°C) for about 20 minutes.
11 - When ready, let the cupcakes cool down for about 10 minutes. Then, dig a little hole in the center using a measuring teaspoon (we show you how here). Crumble the leftovers using your fingers and set those aside.
Assembling The Creamy Chocolate Raspberry Cupcakes
1 - Whip the heavy cream (from the raspberry diplomat cream recipe) until light and fluffy like so. Then, set aside.
2 - Whisk the raspberry cream vigorously by hand (or with a hand mixer) until the cream has softened and is smooth and shinny. Then, gently stir the whipped cream in until well combined.
3 - Fill two piping bags, one with the chocolate crémeux and the other with a small star pastry tip and the raspberry diplomat cream.
4 - First, feel up the hole in your chocolate cupcakes and create a little dome. Then, pipe the raspberry cream around the chocolate cream in a pretty manner. We are showing you how to pipe the cream here.
5 - Sprinkle the raspberry seeds on the cupcakes and decorate them with the crumbled cupcakes leftovers.
6 - Enjoy!
Watch our video for more details!
- - - - - - - - - - - - - - - - - - - - - - - - - - - 
Disclaimer: baking/cooking times vary according to each appliance. Make sure to always control halfway through for success.
- - - - - - - - - - - - - - - - - - - - - - - - - - - 
🎬 Everything we used for this recipe:
🍶 Kitchenware: Coming soon!
🍳 Ingredients: Coming soon!
- - - - - - - - - - - - - - - - - - - - - - - - - - - 
Enjoy our content? Support us! 💖
The information provided in this recipe is not nutritional or medical advice. Please read our disclaimer.