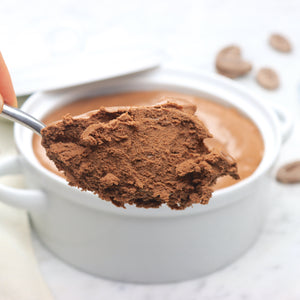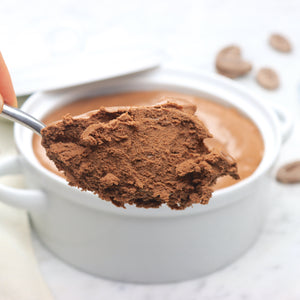 On Sale
Gourmet Chocolate Mousse: Restaurant Style
This post may contain affiliate links. Please read our disclosure policy. 
Are you a chocolate lover? In this recipe, we are showing you step by step how to make a tasty gourmet chocolate mousse! 
This incredible restaurant-style chocolate mousse requires only simple ingredients you probably already have in your kitchen: chocolate, eggs, milk, heavy cream, coffee, and salt. 
When making recipes with chocolate, it is recommended to use a good quality one. Usually, the easy way will be to go to the grocery store. However, their chocolate often contains large amounts of added sugar.
If you have never tasted Valrhona chocolate, you absolutely must! We have been using them for many years now and will never be able to go back. They have so many varieties with so many different flavors. They are not cheap, but their chocolates are truly going to bring your recipes to the next level. No wonder this is what the pros use!
Here are the chocolates we used:
For more, check out our entire selection of recommended baking chocolates.
As for the equipment, your can either use a hand mixer or a stand mixer. Both work very well and will make the job even easier! 
Here, we used our must-have hand blender, the Braun Multiquick Technology, with the whisk attachment. 
If you are looking for a more traditional hand mixer or stand mixer, we recommend the KitchenAid ones: 
They are both incredibly efficient and will look amazing in your kitchen!
For more information on KitchenAid, check out our detailed article "The Best KitchenAid Mixers & Blenders".
Bon appétit!
Difficulty: 
Prep time: 20 mins / Servings: 6 people

- - - - - - - - - - - - - - - - - - - - - - - - - - -

Chocolate Mousse

3 oz (85g) - Milk
1 tbsp (4.5g) - Ground coffee
5.5 oz (156g) - Dark chocolate
3 oz (85g) - Milk chocolate
3 - Eggs
8 oz (226g) - Heavy cream
1 tbsp (15g) - Stevia
1 pinch - Sea salt flakes
- - - - - - - - - - - - - - - - - - - - - - - - - - - 
We advise that you prepare all the above ingredients before starting.
You will typically need: a scale, measuring cups, mixing bowls.
Chocolate Mousse

1 - Add the milk and ground coffee to a saucepan (or like us a saucier pan). Give the milk a quick stir using a spatula and bring it to a boil. Once boiling, set aside and allow to infuse for a couple of minutes. 
Tip: All-Clad is the gold standard for professional quality stainless steel cookware. If you want to learn more about All-Clad, check out our detailed article "The Ultimate Buyer's Guide To All-Clad".
2 - Add some water into a saucepan and add a mixing bowl over it. We call that a "double boiler". Add the milk chocolate and dark chocolate to the bowl and bring the water below to a simmer. Then, let the chocolate melt slowly while continuously mixing with the spatula. 
3 - Once the chocolate has fully melted, remove the bowl from the saucepan and strain the milk over it with a strainer. Next, emulsify the milk and the chocolate together using a spatula and set aside. 
4 - Pour the heavy cream into a clean bowl. Whip until soft peaks using a hand mixer and set aside. 
Tip:  Our must-have hand blender is the Braun Multiquick Technology. You may also use a stand mixer. We recommend this beautiful KitchenAid Stand Mixer with a glass bowl. For more information, check out our detailed article "The Best KitchenAid Mixers & Blenders".
5 - Separate the eggs, add the whites into a large bowl, and whip with a hand mixer until a foamy texture forms. From this stage, slowly incorporate the stevia while continuously whipping. Whip the egg whites until soft peaks.
Tip: We store our ingredients in these mixing bowls and mini glass bowls from Duralex while cooking. We love Duralex for their quality products and low prices!
6 - Add the egg yolks into the chocolate mixture and whisk vigorously until well combined. 
7 - Next, whisk half of the egg whites into the chocolate. Once the mousse batter starts to loosen, switch the whisk for a silicone spatula.
8 - Add the remaining egg whites and gently fold them in the mousse until well combined. 
9 - Then, gently fold in the heavy cream and add the sea salt flakes.
10 - Transfer the chocolate mousse into a food container (or individual ramekins) and refrigerate for about 2 hours. This chocolate mousse is very rich and dense, therefore we advise you to pull it out of the fridge 15 minutes before tasting.
11 - Enjoy!
Watch our video for more details!
- - - - - - - - - - - - - - - - - - - - - - - - - - - 
Disclaimer: baking/cooking times vary according to each appliance. Make sure to always control halfway through for success.

 - - - - - - - - - - - - - - - - - - - - - - - - - - - 
🎬 Everything we used for this recipe:
🍶 Kitchenware: Coming soon!
🍳 Ingredients: Coming soon!
- - - - - - - - - - - - - - - - - - - - - - - - - - - 
Enjoy our content? Support us! 💖
The information provided in this recipe is not nutritional or medical advice. Please read our disclaimer.