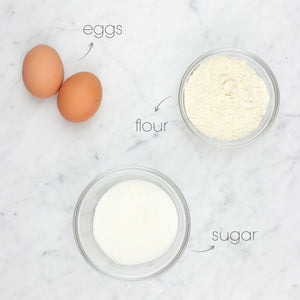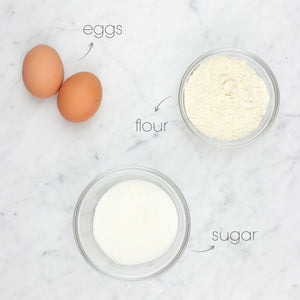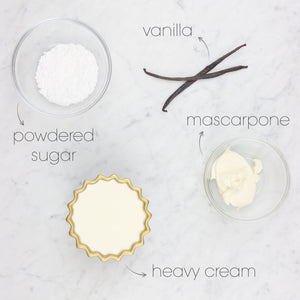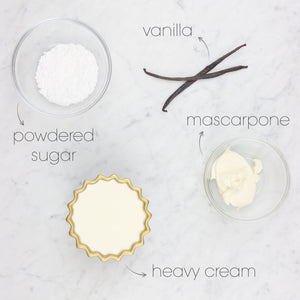 On Sale
Fraisier: French Strawberry Cream Cake
This post may contain affiliate links. Please read our disclosure policy.
Summer is here and our french chef loves to create her pastries following the seasons. Therefore, now is the perfect time to share this delicious fraisier recipe with you in this new episode of "Secrets Behind French Pastry"! This tasty french strawberry cake, very popular in France, is one of the greats! Everyone loves eating this pastry during summer! It is creamy, fruity, flavorful, and has a lot of strawberries in it! 
Are you ready to learn how to make this creamy fraisier and discover the secrets behind french pastries? Let's go!
Bon appétit!
Difficulty: 
Prep time: 1 hr 10 mins / Cook time: 35 mins / Servings: 5 people
- - - - - - - - - - - - - - - - - - - - - - - - - - - 
Vanilla Mousseline
4 - Egg yolks
5⅝ oz (160g) - Sugar
1⅜ oz (40g) - Corn starch
17 fl oz (500ml) - Milk 
1 tsp (3g) - Vanilla powder
5 oz (140g) - Butter (for the base recipe)

5 oz (140g) - Butter (to whip the cream)

Strawberry Confit
11 oz (320g) - Strawberry
1 tbsp (15g) - Sugar
3½ oz (100ml) - Water
1 oz (30g) - Corn syrup
1 tsp (4g) - Pectin
Genoise
2 - Eggs
2¼ oz (65g) - Sugar
2 oz (60g) - Flour
Simple Syrup
1 - Lime
½ - Lemon
1 cup (240ml) - Water
4¼ oz (120g) - Sugar
Strawberry Marmalade
3½ oz (100g) - Strawberries
1½ oz (43g) - Strawberry confit
Vanilla Mascarpone Whipped Cream
8 fl oz (208ml) - Heavy cream
3 tbsp (20g) - Powdered sugar
2 oz (56g) - Mascarpone
1 - Vanilla pod (or 2 tsp (8g) of vanilla extract)
- - - - - - - - - - - - - - - - - - - - - - - - - - - 
We advise that you prepare all the above ingredients before starting.
You will typically need: a scale, measuring cups, mixing bowls.
Vanilla Mousseline Cream
1 - Start by separating the egg yolks from the egg whites. Place the egg yolks in a large mixing bowl and keep the egg whites in the fridge for your next recipe.
2 - Pour half of the total amount of sugar over the egg yolks and whisk until light and fluffy. Then, add the corn starch and whisk vigorously until well combined.
3 - Pour the milk with the vanilla powder and the remaining sugar into a saucepan. Give it a quick mix and bring everything to a boil.
4 - Next, while whisking, slowly pour the hot milk over the eggs. Mixing with the whisk while incorporating the hot milk on the eggs will help prevent the eggs from turning into scrambled eggs.
5 - Once the milk is well incorporated into the eggs, pour everything back in the saucepan and cook on medium heat for about 5 minutes or until you obtain this texture.
Tip: During this step, it is important to keep mixing to prevent lumps in your cream.
6 - Remove from the heat and mix in the cold butter (only the first 5 oz (140g)). Whisk until the butter is fully incorporated into your mousseline.
7 - Transfer to a bowl, cover it with plastic wrap and place it in the fridge for at least 3 hours.
Strawberry Confit
1 - Wash and finely dice the strawberries. 
2 - Put the diced strawberries, sugar, water, and corn syrup in a saucepan (or like us a saucier pan). Mix everything, then, cook over medium-low heat for about 5 minutes.
Tip: Mix from time to time to prevent the strawberries from sticking to the bottom of the saucepan.
3 - Blend the confit with a blender and put it back in your pan.
Tip: Our must-have hand blender is the Braun Multiquick Technology. Then, add the pectin and bring it to a boil. 
4 - Once the strawberry confit has boiled for at least 1 minute, pour it in a silicone semi-sphere mold (filling ⅓ of the semi-spheres) and freeze it for an hour.  While the confit is resting, start the vanilla cheesecake mousse.
Genoise
1 - Preheat your oven to 330°F (165°C).
2 - Sieve the flour using a flour sifter.
3 - In a stand mixer bowl, crack 2 whole eggs and whisk for 2 to 4 minutes (using the whisk attachment) before adding the sugar.
Tip: The KitchenAid Artisan Design Series and the KitchenAid Professional 600 Series are superstars among stand mixers and will look amazing in your kitchen!

4 - Once the eggs start to become light and fluffy, slowly pour the sugar while mixing. Then, whip at medium speed for an additional 5 minutes (or until you obtain this consistency).
5 - Add the flour one half at a time in the whipped eggs and mix slowly using a spatula (or a hand mixer).

6 - Equip a piping bag with a small round tip.
7 - Pour the genoise in a baking pan lined with parchment paper. Spread it evenly on a ½ inch (1.5 cm) thick layer.
8 - Bake it at 330°F (165°C) for about 15 minutes. When ready, dislodge it from the pan and gently remove the parchment paper.
Simple Syrup
1 - Slice the lime and the lemon, and place them in a saucepan.
2 - Add the water and sugar to the saucepan, and bring everything to a boil.
3 - When the syrup is ready, soak the genoise using a pastry brush (boar/silicone) and set it aside.
Strawberry Marmalade
1 - Dice the strawberries and place them in a bowl. Then, add the strawberry confit and mix everything.
Assembling The Fraisiers
1 - Finely slice some strawberries, just enough to cover the edges of the cake rings. Then, set those aside.
2 - Cut the soaked genoise using a cake ring (it will help you obtain the perfect size). You should be able to get 6 genoise disks. Use 2 disks per cake to get 3 fraisiers or use only one to get 6 individual fraisiers.
3 - Place your cake rings on a tray lined with parchment paper. Cut pieces of cake collar, and place one inside each cake ring. 
4 - Put a genoise disk in the cake rings first to create the bottom of the cake. Place the sliced strawberries inside the cake collars and set those aside.
5 - Place the mousseline in your stand mixer bowl and whisk it for about 2 minutes to bring it back to room temperature.
6 - Add the room temperature butter and whip for about 5 minutes until nice and fluffy.
Pro tip: make sure the mousseline and the butter are at the same temperature before mixing them or the cream will separate.
7 - Place the mousseline in a piping bag, and pipe it to fill the cake rings halfway.
8 - Add about 2 teaspoons of strawberry marmalade, and either cover with more mousseline or place another genoise disk on top.
9 - Place the strawberry cream cakes in the fridge overnight. 
Tip: The full fraisier assemblage process is available here. 
The next day...
Vanilla Mascarpone Whipped Cream
1 - If you are using fresh vanilla, remove the vanilla bean seeds from the pods. We are showing you how here.
2 - In a large mixing bowl, combine the heavy cream, mascarpone, powdered sugar, and vanilla beans. Then, whip using the whisk attachment of a hand mixer (or a stand mixer) until a nice and smooth consistency is reached.

3 - Remove the cake rings from the fraisiers.
4 - Place a St. Honoré pastry tip in a piping bag and pipe the mascarpone whipped cream in a pretty manner on top of your strawberry cream cakes.
5 - Decorate them with some fresh strawberry slices and fresh lime zest.
6 - Enjoy!
Watch our video for more details!
- - - - - - - - - - - - - - - - - - - - - - - - - - - 
Disclaimer: baking/cooking times vary according to each appliance. Make sure to always control halfway through for success.
- - - - - - - - - - - - - - - - - - - - - - - - - - - 
🎬 Everything we used for this recipe:
🍶 Kitchenware: Coming soon!
🍳 Ingredients: Coming soon!
- - - - - - - - - - - - - - - - - - - - - - - - - - - 
Enjoy our content? Support us! 💖
The information provided in this recipe is not nutritional or medical advice. Please read our disclaimer.